"Let's be friends if convenient, if inconvenient let's be friends anyway." Edit
Alegria was born in Florence (Italy), city where she also grew up. She's the second daughter of James Collins and Penélope Orsini. As a child she was quiet yet very curious and would ask her parents pretty much about everything. One of the happiest memories she has of her childhood is the summer holidays spent at her paternal grandparents's lake house, place where once grew up she learned to play the violin thanks to her grandmother Grace.
At five years old she started to practice rhythmic gymnastics and around seven, on the advice of her coach who believed she had potential, she started at a competitive level participating in national competitions. Six years later her mom got the opportunity to work in a prestigious fashion magazine in France, so her family decided to move and she had to put aside this passion. What she most liked about that sport was the freedom and lightness she felt on the floor during the exercises, for her it was not just a pastime, it was a way to create art through motion.
In the new town she enrolled in a new gym, but decided to not compete anymore. As for the new school at first she felt out of place, but by meeting Lucy and then Ken things went better; she didn't fully integrated though, because she moved again almost immediatly in a new neighborhood.
It was at that moment that she arrived in Sweet Amoris High School.
Appearance
Edit
Alegria has long brown wavy hair and usually she wears them loose, in braids or in a high loose ponytail. She has very expressive grey eyes, naturally tan skin and she also have freckles, although you don't notice it that much.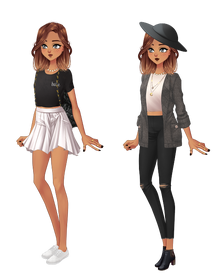 Her style can't be defined in just one. She tends to mix and experiment quite often. She likes to wear mostly pleated skirts, crop-tops and heels, but in her closet can also be found high wasted (ripped) skinny jeans, a leather and a denim jacket, denim shorts, the over the knee socks, lots of cosy sweaters and a pair of white sneakers.
She doesn't wear much jewelry, just a necklace of pearls given her by her mom (has been part of the family for generations) and some rings. Her make-up consists of eyeliner, mascara, blush and a nude or burgundy lipstick. She also has a tattoo in her right rib (it's a small flower).
Personality
Edit
She is very reserved when it comes to her personal life, but apart from this she's always open to new things, kind, trustworthy and friendly, she makes friends quit easily. She's also very smart and determined, she always challenge herself to do even better. Although she's calm, she knows how to respond if provoked, she's not afraid to speak her mind, stubborn and proud.
Relationships
Edit
The Boys Edit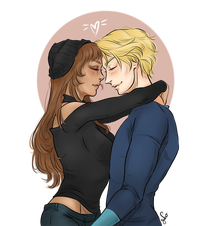 Nathaniel Edit
Nate was one of the first students who met Alegria. They have been on the same wavelength from the very start and in a short time they became very close. Unfortunately during Alegria's first vacation in the new country she messed up their friendship because of Dakota. From that moment on she tried to regain Nathaniel's trust, not only for their friendship, but also because she started to feel something different, something stronger. When he finally left behind that story, things got better again between them and they managed to confess their feelings to each other.
There are several things that they have in common, such as the passion for books and cats, but also they're both perfectionists.
Now they're getting to know each other more day by day and they seem inseparable.
Their relationship at the beginning wasn't the best, especially because of his attitude towards the others students. He considered her super annoying even if this didn't stopped him from teasing her, but anyway with time they started to get along even though they're surely not best buddies.
Lysander Edit
They're not very close, but he intrigues her and she wants to know him better.
Ken(tin) Edit
They attended the first year of high school together when Alegria first moved, but they have never been "close" friends. She was aware that he had a crush on her, however she always considered him adorable, a nice guy and a precious friend but nothing more. When he moved to Sweet Amoris as well, they have approached a little more and now they get along.
Armin and Alexy Edit
When they moved to Sweet Amoris the three became friends immediately, they make her laugh like no one else. They're both her best friends.
The Girls Edit
Honestly these two were meant to meet, they have became friends right away and seem to understand each other perfectly. She's like a second sister to whom you can tell everything, as long as they're together everything will be alright.
She is an old friend and the two of them are very close. They used to go to the same school when Alegria first moved with her family. They still keep in touch.
Violette Edit
Vio is the most sweet girl Alegria has ever met. She admire her artistic skills and she even asked her once to teach her something.
Iris is the first student Alegria met when she arrived to Sweet Amoris and she's always pleased to talk with her.
They're not like best buds but get along well. There isn't much to say.
At first Alegria didn't trust her completely and she still has some doubts, but she also has to admit that she seems a really interesting person.
At first they were friends and used to get along fairly well, but then she changed and started to have a childish behavior anytime Alegria talked to Nathaniel. They still stand each other, but their friendship is kinda ruined.
Obviously they don't have a nice relationships, even if Alegria hopes that Amber will get over herself someday and that things will change between them, mostly for Nathaniel though.
Charlotte and Lì Edit
She doesn't have an opinion on them. Live and let live is her motto unless you harm others, in that case you better run.
Alegria doesn't dislike her, but sometimes she gets annoyed by her behavior.
Other Candies
Edit
WIP
James Collins Edit
His parents are Richard and Grace née Pii, they both come from wealthy families. The two after getting married moved to Como, Italy and settled there. James is they're only child, he has grey eyes and dark brown hair. He was a famous footballer, but after a serious injury he had to retire, now he works in the family enterprise. He's very attached to his two daughters and would do anything for them.
Penélope Orsini Edit
Her parents are Amato Orsini and Delia Ramos. Her father is Italian and works as a dealer, while her mom is Cuban and works as a seamstress. She has a younger sister named Isabella and both were born in italy. She has light brown eyes, naturally black curly hair and tan skin. She has a degree in Fashion Design and is currently working as a personal assistant to the director of a prestigious fashion magazine. She tends to be protective, but also comprehensive and well-prepared to help her daughters.
Audrey Collins Edit
She is Alegria's older sister. When they were children they were mistaken for twins, because they looked alike... Tan skin, gray eyes, brown hair, but actually Audrey is one year older than Al. Whenever Alegria needs something, like advice or to be comforted Audrey is there for her, she's her landmark. They have a very strong relationship.
Isabella Orsini Edit
Isabella is Penelope's younger sister as well as Audrey and Alegria's aunt. She has dark brown curly hair and brown eyes. She likes to travel and that's why she decided to work as a flight attendant.
She has Cuban and British origins.
She plays the violin and she practice(d) rhythmic gymnastic .
Likes: Reading, photography, tv series, languages.
Dislikes: Being late, noisy places.
She is claustrophobic.
Her favourite dish is Cantonese rice and pizza.
Her favourite colours are black and pale pink.
Her favourite season is fall.
Her favourite tv shows are Gossip Girl and Friends.
Since English is not my native language sorry if there are any mistakes.

Ad blocker interference detected!
Wikia is a free-to-use site that makes money from advertising. We have a modified experience for viewers using ad blockers

Wikia is not accessible if you've made further modifications. Remove the custom ad blocker rule(s) and the page will load as expected.