The New Girl
Edit
River Stewart is the new student at Sweet Amoris. Ever since the death of her parents she has been in the foster care system. She's been passed through and thrown out of many homes due to her 'I won't let you run over me' attitude. Which is also why she tends to intimidate her classmates. Though her real friends see how big her heart actually is.
To read her entire story, click here.

River's parents passed away, while she was in middle school, during a horrible car wreck. Her grandparent's excuse for not taking her in was that they were "too old to take care of a child". With no other close relatives, River was placed in the foster system. Because of her attitude and demand for justice, she was in and out of many homes. In one instance, her foster father was talking bad about River's birth parents and hurting another smaller foster child in the house. To 'teach him a lesson' she introduced him to her baseball bat. This landed her in Juvenal Hall. Two years ago she was fostered by Richard and his three sons. Since then, she had felt more at home than she had in a long time. The boys loved her and her passion for sports. She quickly became a role model to the children and is now being adopted in the winter.
School Life Edit
On River's first day at Sweet Amoris, she arrived extremely early and passed out at the school entrance. She was awoken to Kim, telling her that someone had drawn a red mustache on her upper lip. All of the students that passed her that morning laughed and thought of her as a loser. That is, until she met Amber and realized she was the one who embarrassed her. She quickly became violent with the girl, as well as yell at Nathaniel. This quickly changed most of the students opinions of her to either reflect fear or think of her as crazy. As the year progresses, most students are coming to realize River's happier side, leading them to like the girl. Her baseball talents were recognized quickly and River is now the Captain of the Baseball Team.
Appearance
Edit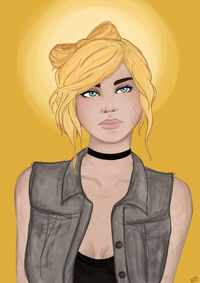 River's hair is naturally blonde. It is usually worn in a pony tail, messy bun or her signature bun bow. For the simple reason that she hates when her hair touches her shoulders. She has light blue eyes with a blue-green ring around her pupil. Though she is pale in complexion, she tans very easily. She does have tons of freckles. She is usually covered in scrapes, bruises, scars and band aids due to the viciousness of her favorite sport. Though her hair is blonde, her eyebrows are naturally a dark brown. Though River is toned, she struggles with her weight. For a long time after her parents died, she refused to eat. Even now she still forgets her need for food. As for her style, River is an extreme tomboy and loved baggy clothes and the grunge look when she was younger. Being picked on in group homes, she became self conscious about her choice of clothes. A few other girls decided to help her dress more 'girly'.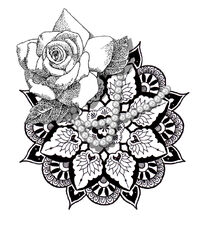 Since then, she now wears her least favorite color (pink)with a splash of grunge. She tends to wear more revealing clothing so that 'I can play better'. She wears a custom baseball glove on her right arm and hand that her foster father gave her when she first moved in with them. Over time and use it has become worn.
She also has one tattoo. One of her ex girlfriends gave to her while she was in a group home. She basically said "What do you think of me?". The Indian girl had a fascination with Mandalas and thought River was beautiful. She gave her a Mandala with a rose draped with a string pearls in the middle of her back.
Her voice claim is Madilyn Bailey.
Personality
Edit
River is the sarcastic girl that most people don't have a problem with. She is dependable, persistent, energetic, loyal, and generous. She always speaks her mind and is often as honest as possible. Though, it may take a while to see through her sarcastic in-your-face attitude, deep down she is a good person. Her flaws, however, are that she is stubborn and has an awful temper. She is also know to quickly resort to violence with people that are not friends nor loved ones. However, River has a need for justice. She's always quick to jump in if someone is being treated unjustly. Especially if it's a loved one.
Friends and Family
Edit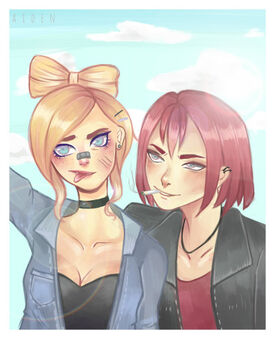 Castiel was one of the first students to speak to River after her move to Sweet Amoris. After blowing up on Nathaniel, River searched the school for the baseball field. Shortly after locating the field, Castiel showed up and offered to pitch to her, sparking her interest in him. They've been growing increasingly close from the homecoming party, with all the incidents it ensued, and seeing each other everyday in class. Often, they spend time driving around town on his motorcycle, chilling at his house watching movies or just going on some crazy adventure River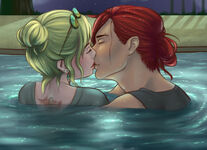 thought up. They both share in sarcastic and tough qualities. But, they both like each other for their wits and softer sides. Castiel fell for her for the fact that she's sweet, tough and real. The more involved they get, the more they realize how much they want to help one another tear down their walls.
Admin note: I always draw Cassy with a man bun. Because not only does he like his hair up, River likes to put it up for him.
Lysander and River met through the party on homecoming night. River convinced him to drink and afterwards they spoke of their passions and honesty. They've slowly been developing their friendship since then. Lysander often joins River at the batting cages for inspiration and River attends all of his and Castiel's concerts.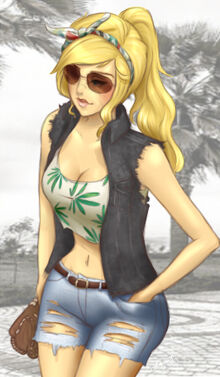 Kim was the first person that River came to know and trust at Sweet Amoris. Kim is River's best friend. They
goof around often, joking about other students and slacking off. They both party together and are usually hanging out. River has had a massive crush on Kim since the beginning but, since she realized her feelings for Castiel, she's ignored her crush and treats Kim as her best friend. Kim is at every game for River, yelling at the top of her lungs.
Iris is River's smoking buddy. They often spend their time together chilling, getting high and going into deep thought. River thinks Iris is extremely adorable.
Violette Edit
Violette often comes to River for encouragement and advice, seeing as how confident River is compared to her. River loves Violette and admires her talent. Violette often sketches River playing ball as practice.
River dislikes Amber but, finds her super attractive. She hates how she's always in her business and isn't afraid to slap her around. Amber is slowly growing to fear River but, is also growing to hate her more for being with Castiel and treating her like a 'punching bag'.
River and Nathaniel mutually dislike each other. River is loud, a slacker, vulgar and with Castiel. Nathaniel is stuck way too far up the school's butt, he's a know it all and seems a touch devious. Nathaniel is the only person in the school that knows of her being a foster child, due to her records. Later in their story, Nathaniel realizes this and basically uses it to blackmail River.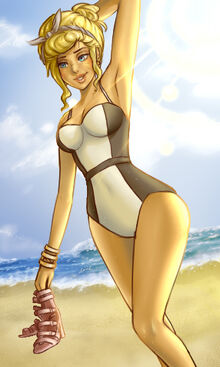 Dake came onto River at the homecoming party and freaked her out. Later on, River gives him a shot and creeps her out more by walking in on her changing, to which she nearly beat the living hell out of him. After that he apologized and River gave him one last shot to be friends, which he has taken seriously. He quit trying to go after her and offered to teach her surfing, which she has been working on. And they like to tan together.
Ever since Priya had moved to Sweet Amoris, River has been sweating anytime she's around. She thinks Priya is absolutely beautiful and is a tad bit sad that she's with Castiel... but not really. Her and Priya often talk about the different school they've been to and how traveling effected them.
River was never close to Ken before. She was nice to him but, she didn't even stay at his school for that long. After he came back from Military school, they bumped into each other running one day and began to run together in the mornings.
River overheard Armin talking about Lord of the Rings to Kentin one day and instantly threw herself in the conversation. They're Lord of the Ring buddies but, that's it. Armin doesn't under stand her obsession with baseball and the outdoors, she doesn't understand how he can stay cooped up all day.
Alexy loves River's attitude and often takes her shopping or brings her gifts of clothing. He picks out most of her outfits and they talk deep about life and the struggles of liking someone the same sex as you.
Anika is River's ex girlfriend that gave her, her tattoo. River let Anika because of distance but, now Anika is trying to get in between River and Castiel. And River is not happy about her attempts.
Foster Family Edit
Two years ago River became the foster child of Richard Abott. A generous, kindhearted man whose wife passed away six years prior to their meeting. At first, Richard was leery of the girl with a past record of violence and juvey. Especially around his three younger sons. As opposed to Richard's first impression his youngest son Brian Abott, being the age of six, immediately liked River. He often followed her around asking all sorts of six year old questions. One day, Richard saw River open up to the small boy, going on and on about baseball. After realizing her passion, Richard began to take the family to play baseball on the weekends. The two older boys finally warmed up to her after realizing their shared love. River often teaches the oldest brother, Aiden the age of eleven, and the middle child, Ethan the age of nine, all she knows about baseball. The family has grown to love River and plans to adopt her in the winter time.
Her Obsession
Edit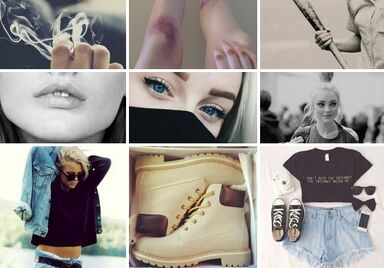 River has an intense obsession with baseball. Not only does she play and has taught herself to learn every role on the field, she watches baseball games every week. She's currently teaching Aiden and Ethan how to pitch and what to do at short stop. She would be teaching Brian but, she get nervous about him playing with his rougher older brothers, so she plays catch with him often. Baseball is a form of stress relief for the girl. Anytime she's angry, sad or worried and can't do anything active to change it, she hits the batting cages until she's too physically exhausted to continue. Lysander often comes to the cages with her to get inspiration through her passion for the sport. She joins the baseball team at Sweet Amoris, being their lead pitcher and one of the best hitters. Her friends usually try to attend all the games, Castiel and Kim being particularly obnoxious in the bleachers with their big signs and air horns.
He obsession started as a child. Always playing and watching ball with her dad, but once she lost her parents, she really clung to the sports. She takes his old baseball bat everywhere and fought extremely hard to keep it during the move from many different foster homes.
Relations with other Candies
Edit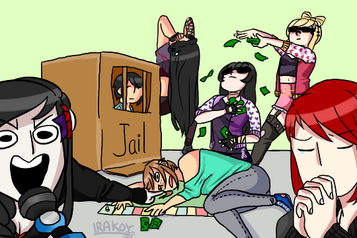 When specified, River's other Candy friends will be added to this list. As of this moment she is friends with the following Candies from Tumblr:
River has a crazy mad crush on Eva. She goes crazy for dark haired bad bitches with bright red lips.
River often goes on double dates with the beautiful Mika, for she is seeing Lysander. River refers to Mika as 'Bunny Butt'.
River has just befriended Luna but, she already has a lot of respect for the girl. Besides the fact that she apparently likes Nickleback.
River and Sasha often get high together and talk about their misadventures. When they first met, River had a crush on her but ultimately became friend-zoned. In an AU Sasha is dating male!River: Rick the Dick.
River loves the sweet little Leo to death... That being said she almost killed her by feeding her cinnamon toast. River used to call her 'Precious Cinnamon Roll' but after the traumatic incident she refers to her as 'Cupcake'.
River has only just met Noelle but, she finds her adorable in the same way she finds Iris and Violette adorable.
River loves Starlenne, the two can often goof off to each other or just chill and talk about school. Starlenne tries to attend every baseball game River has, but can often only go to half of the games due to either a date with Lysander, dance practice, or a dance performance. If you left these two alone in a forest together with a very apparent forest trail leading back, they'd end up going the opposite direction and getting lost.
River thinks Mimi is absolutely adorable. Though at first, River was sure Mimi didn't like her at all. But, now Mimi and River have come to know each other.
River and Danielle get along very well. Despite their contrast in personalities and conflicting boyfriends. Danielle is an outdoors person and River has agreed to teach her how to play baseball.
River met Naomi through the baseball team. Naomi being the team's main catcher cause them to spend a lot of time together. River admires Naomi's optimism and cheerful attitude. Though Naomi doesn't usually pick up on River's sarcasm they still manage you be friends and share many high fives/hugs after they win a game.
If I forgot to add anyone, message me or comment below. Also, if you would like to be on the Sweet Amoris Baseball team, let me know! ♥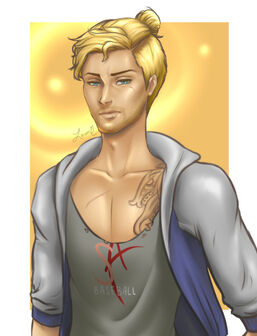 ▪️ Is very protective over her new adopted brothers.
▪️ It's very rare for her to open up to people at school, so she usually keeps the conversation lighthearted and based on others to avoid revealing too much about herself.
▪️ Has had three past relationships, none were very serious.
▪️ Curses often, but knows how to keep a filter on around people who it bothers.
▪️ Often attends parties. She'll often be the one that keeps playing beer pong and other party games until everyone is wasted. Then will decide she wants to go on an adventure.
▪️ Castiel's usually the one the pin her down so she doesn't get lost in the woods, run out in the street or in front of the police station.
▪️ River's favorite food is hot wings.
▪️ Has been trying to get a sports scholarship to continue baseball professionally.
▪️ Has punched many holes in many walls.
▪️ Is closer to guys than girls due to her tomboyish ways.
▪️ Her breakfast consists of two eggs, five pieces of bacon, two pancakes and one glass of orange juice. This is the only thing she is very OCD about and has to have every day.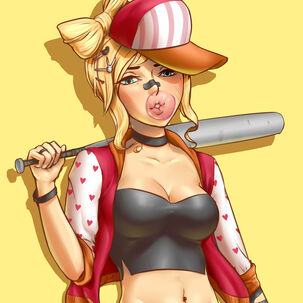 ▪️ Has always struggled with a low BMI, regardless of how much she eats/works out.
▪️ Often kisses Iris and Violette's cheeks because she thinks their freaked out reactions are adorable.
▪️ Has 0% sense of direction. Often gets lost or forgets what she's doing quickly. Castiel often calls her the "Second Lysander".
▪️ She likes old rock. Specifically AC/DC. Specifically Balls to the Wall.
▪️ River is an extrovert.
▪️ Her favorite teacher is Patrick because he's mysterious and cool as a cucumber.